February 18th, 2011 by caitlyn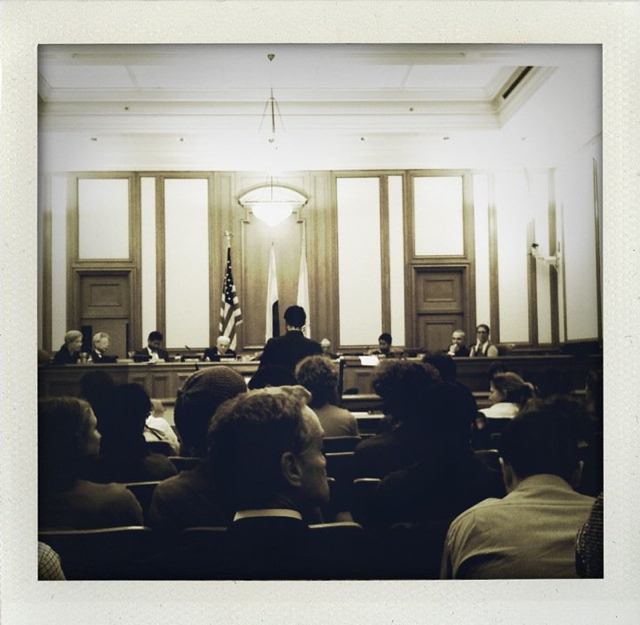 What you can't see in this photo is the sea of supporters squeezed into the Public Hearing room, lining the walls, sitting on the floor, overflowing into the hallway, and peering into the room from a small window. There were urban gardeners, rural farmers, business owners, families, students, teachers, chefs, neighbors young and old, all listening attentively as the Planning Commissioners eventually announced their unanimous support for the proposed legislation to amend San Francisco zoning code.
There were two great successes of the day — the first being the Commissioners' response to the proposal. They reviewed the material presented, heard our stories and comments (and there were many), shared nostalgic anecdotes of their own farmer grandparents, recognized the importance and necessity of this kind of forward thinking in our city, and voted unanimously to pass the legislation. Triumph! There are still some important points to be discussed as the decision is now turned over to the Board of Supervisors' Land Use Committee — namely the three amendments proposed by the SF Urban Ag Alliance, outlined here — but this decision was a significant and symbolic step forward for our city and will provide important momentum for the work that lies ahead.
The second and perhaps more moving success of the day was the incredible turnout. The wide range of people who showed up to City Hall on a rainy day to offer their presence, and the collection of earnest, impassioned speakers who braved the podium to vocalize their support was so inspiring. There were carefully prepared speeches delivered slowly and professionally, and there were spontaneous, brief comments spoken with shaky hands and undeniable heart. It is clear that paving the way for more farming in the city, and building tangible community along the way, is an important and personal goal for many of us. Thank you all for showing up, speaking your words, writing your letters, and strengthening this push! Nice nice work. We'll keep you all posted as this legislation moves forward.
photo of Eli Zigas addressing the Commissioners. Taken by Blair Randall in Room 400 of San Francisco City Hall.