September 3rd, 2012 by brooke
To those of you who follow the farm blog regularly: we arre so sorry for the general absence of posts this season. It's been a very unusual couple of months.
This past winter and spring, Caitlyn and I were full of plans. We had everything laid out on paper, from very detailed crop rotation charts, to yield projections, to marketing and financial goals. We planned to start our month-to-month CSA with 25 members and then each month grow by 5 members until we got to 40. We planned to start delivering weekly to our three committed restaurant customers and pick up a few along the way. In addition, we planned to set up a stand every Thursday at the Mission Community Market. These were big goals and we knew we had to practice impeccable time management. So we organized a schedule that laid out which hours would be devoted to each of the myriad of tasks that had to be completed each week to keep all the balls in the air.
In the beginning of the season, all went according to plan. From February to May we grew and sold many pounds of produce each week to CSA members, chefs and at the farmers market. Our schedule kept us focused and very busy. We  had a lot of fun having a public presence at the farmers market, and took a lot of pride designing a beautiful welcoming stand. It was pretty tough though, because the farmers market added an extra very long (13 hour!) work day to the week. We would generally begin harvesting at 7:30 or 8 in the morning, pack up and get to market by 2:30, set up and then sell at the market until 8.  By the time we had packed up and returned all the market gear and leftover produce to our shed it was 9pm and we were totally wiped out.  The combination of physical and social interactive energy that we expended on market day often took us a couple days to fully recover from. So, as the weeks rolled on, some important details started to fall through the cracks. Like turning and seeding enough beds each week to keep the food growing, like keeping crops weeded, like retrofitting our failing irrigation system, like doing any infrastructural improvements that would make our daily systems more streamlined and efficient, like keeping up with the books, like responding to all the emails.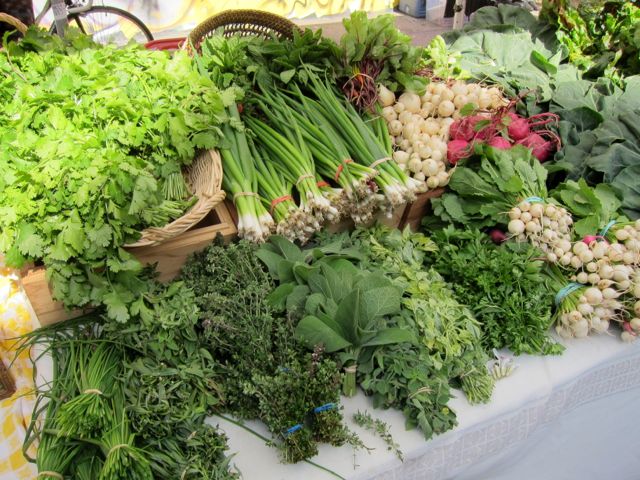 We started to feel behind and overwhelmed. As we churned through our routines, we didn't have the clarity or presence of mind to stop and reevaluate the goals and subsequent program that we had designed for ourselves. We didn't have time for the creative reflection and communication (drawing, zine making, writing) that had been such a nourishing and guiding part of this project from the beginning. The omnipresent sensation of being behind with no way to ever fully catch up was a subconscious weight that we carried while we worked. The farm started to feel like a less pleasant place to be. It was harder to access the inspiration that had fueled us for the last couple of years.
A few other factors also contributed to the fast-approaching burnout. One was that it was an especially windy spring and our site is already a wind tunnel. We couldn't keep the hats on our heads or the plants well enough irrigated. We would leave the farm feeling dried out, a little crazy, and disappointed by rows of stunted plants. The second was that we had little time to devote to other people and pursuits that nurture us in our lives. In short, we had taken on more than we could comfortably, happily handle.
In early May I personally hit a wall. I suddenly lost all interest in the farm. I didn't want to think about anything farm related, and I started to feel trapped when I was there. I daydreamed my way through the hours of harvest instead of staying focused on the task at hand. It took me a few weeks to recognize what this was: burnout built up over the last three years of hard work and, relatedly, a lack of adequate self-care. It occurred to me that I had to either take an immediate vacation or I would be tempted to quit entirely. (Caitlyn had some similar and some different reactions to our rigorous work schedule and the state of the farm but I will let her speak for herself on the subject.)
It felt dramatic to put the farm to rest in what we had planned to be the upswing of the season, pretty much just as we had really gotten the ball rolling. I was concerned about disappointing everyone who supports us and takes inspiration from Little City Gardens. But on the other hand I realized it was very important to take care of myself so that I might preserve my interest in keeping it up in the long run.  So I took off sailing.
I had the really exciting opportunity to join some friends of mine who are traveling around the world on a 42 foot wooden sailboat called the Libertatia.  I met them in San Diego in the middle of June, and over the next  month and a half we sailed down the Pacific Coast of Baja and around into the Sea of Cortez. I learned how to sail, relaxed, wrote, reflected, fished, swam, snorkeled, practiced the banjo, cooked, explored Mexico. It was just the space, the adventure, the exposure to the world that I needed.
While I was away, I began to have dreams of putting more energy towards the planting of fruit trees and perennial plants. I would love to develop a diverse garden and food forest that contributes to the business but is designed and managed differently than traditional row crops. This is something we've always wanted to do but it has seemed an investment too large for the amount of land security we have and for the limited excess funds we generate through our business. But I realized while I was away that perhaps we need to continue to act with faith and confidence, that any seed or fruit tree planted will benefit someone at sometime in the future even if we aren't the ones to enjoy them in their fruition. So we're starting to think about how to generate some funds for this kind of development, and I'm working on drawing up integrative designs for the back 1/3 of the property.
I'm back now, and although I am still in the visioning stage of how I can approach this work in a way that feels personally sustainable, I have more capacity to focus and we are brainstorming more creatively on directions that the farm could take. And thankfully I didn't have to come home to a completely overgrown farm. Caitlyn and our friend Heather have been working hard for the last month seeding and planting crops for the fall. So although there is a lot of work to do they have already gotten a great start.
We still feel the steady support and regular expressions of enthusiasm from you all. We get emails from all over the world from people who are inspired and encouraged to start similar projects. These messages are a big source of energy for us both and they help me feel connected to a larger movement, even when our acre feels small.