April 9th, 2012 by brooke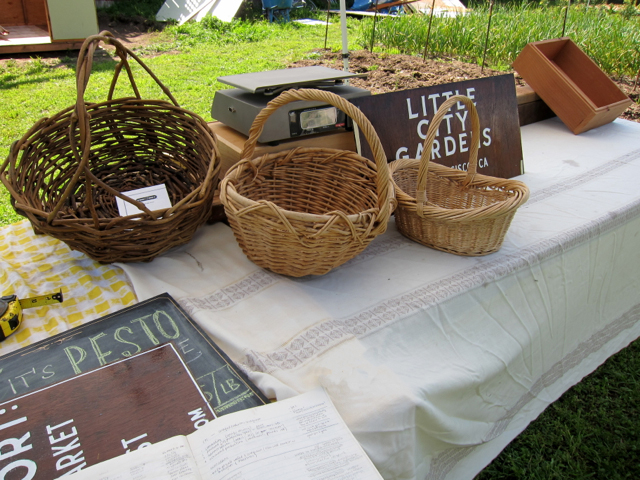 This is a huge week for us! Not only is our Spring CSA now underway, but we're also excited to announce our debut at the Mission Community Market this Thursday.  Please come visit us, all of you, we would really love to see you there:
Mission Community Market
22nd and Bartlett
Thursdays 4pm – 8pm
It's a small and vibrant market and we're honored to be a part of it. We've been working hard for the past few weeks to prepare — getting a Certified Producer's Certificate from the County of San Francisco, buying a scale and getting it certified and sealed, painting signs for our stand, putting together informational material, setting our prices, gathering stand necessities like tables, chairs, crates, baskets and an easy-up tent, building a new toolshed to store all of this new farmers market gear, and of course attempting to time our crops just right so we have a diverse array of vegetables, salad mix, herbs and flowers to bring to the market. For the first few weeks our table should be filled with some come combination of kale, chard, our special salad mix, green garlic, wild onions, peas, artichokes, tokyo turnips, radishes, a mix of many culinary herbs, spring flower bouquets, and more. We are excited about this new addition to our business for a few reasons:
We're hope to foster more connections with fellow food producers: We will be spending a few hours each week surrounded by fellow small-scale food producers and artisans. Running a farm business keeps us so busy and focused on each other, our particular plot of land, our neighbors, and the people that are able to make it out to visit us. We often don't have the opportunity to connect with other farmers and small business owners in the region. Strangely enough, farming in the city can be a lonely profession at times. There aren't too many of us around to discuss the ins and outs and ups and downs of farming.  But the market seems like a great place to foster farmer connections that we need to nurture us professionally.
We love to feed our friends: We are excited to make our produce more accessible to all the friends and folks who would like to support us but can't make it out to our little corner of the Outer Mission on a regular basis. Because we pour so much of ourselves and our lives into our work, we crave a stronger sense of integration between the farm and our social community. We would love to feel that we are feeding our friends and that, by purchasing our produce, these friends are reciprocally supporting the work that we do. We want to be farmers linked into a community web.  When financial compensation falls short, it's community that nurtures a food producer.
We'll have a more public presence and dialogue: This is an opportunity to publicly display the beauty of bounty. We hope our stand can evoke the sensation that urban agriculture has great potential! By stationing ourselves and our produce in a vibrant marketplace, we imagine we will get to dialogue with all kinds of folks about the potential of urban agriculture. Sharing experience and inspiration has been one of our primary aims from the initiation of this project, and the internet can't replace real-time, face to face discussion.
With all of that said, we also must admit we're a little nervous. Participating in a farmers market is a brand new experiment for us and we are not sure how its going to shake out in the end.  It has already meant adding a significant chunk of work to our weekly schedule — an extra long day to harvest, pack up, set up our stand, sell for four hours and then breakdown. We are getting ready for Thursdays to be a 14-hour day (7am-9:30pm).
Business-wise, we are fully aware that this may not exactly be an efficient, cost-effective produce outlet. When we fill orders for restaurants or CSA boxes, all the produce that we harvest, wash, bundle and pack is essentially already sold. But in the case of the farmer's market its a bit more chancy. We weighed the pros and cons for almost a year before we decided to sign up. Ultimately, we must remember that our work is about experimentation and adventure. This is our chance!  We don't know how long our tenure as farmers in San Francisco will last, so with the time that we have we want to explore all of the possible avenues of communicating and direct-marketing. For as long as we are at it, we want to have a breadth of experience as urban farmers.
So in short:  We will be so happy to see you out at the market. Please come visit us! Your ideas, company, and support will make this market a success for us and for all the other hard working food growers and makers. See you there.