November 17th, 2015 by caitlyn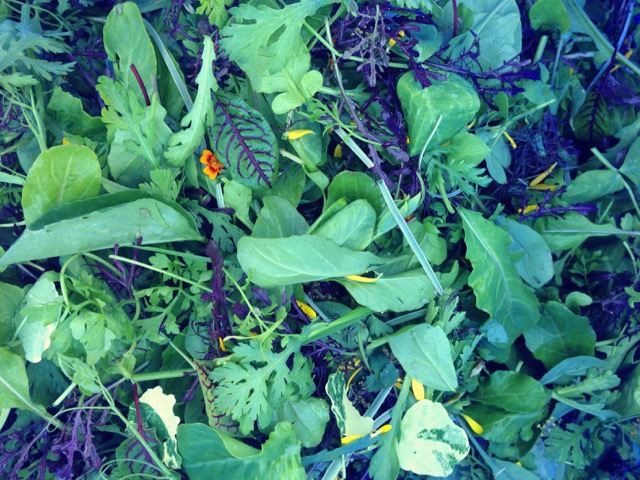 We're now accepting preorders for Thanksgiving boxes!

Boxes will include our lovingly crafted salad mix*, along with a selection of other veggies and herbs from the farm. We've been working hard these past few months to diligently plan out, seed, weed, cover, and tend to these crops in perfect time for your holiday feasts.
* If you're new to the Little City Gardens salad mix, here's what to expect: a diverse, wildcrafted blend including a dozen different varieties of tender greens, herbs, and edible flowers. It is a unique, lovingly crafted mix that is as flavorful as it is beautiful. Just dress it lightly with olive oil and salt and you have an impressive ready-made side dish to feed your family and friends. It's long been our most popular item, and sells out quickly!
Below is what we have available for Thanksgiving, by pre-order only. Availability is limited, and first come first serve, so please do get your orders in as soon as possible! We'll confirm your order and provide additional pickup details by email.
THANKSGIVING FARM BOX (special price): $25
salad mix (1/2 lb bag)*
1.5 lb sunchokes (incredibly delicious root crop, highly recommended!)
1 bunch greens (lacinato kale or collard greens)
1 bunch turnips (salad turnips, great fresh or lightly cooked0
1 bunch mixed herbs (bundle of thyme, rosemary, marjoram, sage etc)
Individual items (as add-ons to the farm box only):
sunchokes — $4.50/lb
lacinato kale — $2.50/bu
rainbow chard — $2.50/bu
mixed herb bundles — $5/bu
turnips — $3.50/bu
Please email orders in no later than Sunday 11/22 at 9pm — littlecitygardens@gmail.com, subject THANKSGIVING ORDER.
Pickup is Wednesday 11/25, 4-5:30pm — at the farm (203 Cotter St).
Thank you for your support, and for putting our city-grown veggies on your holiday tables!