June 20th, 2016 by caitlyn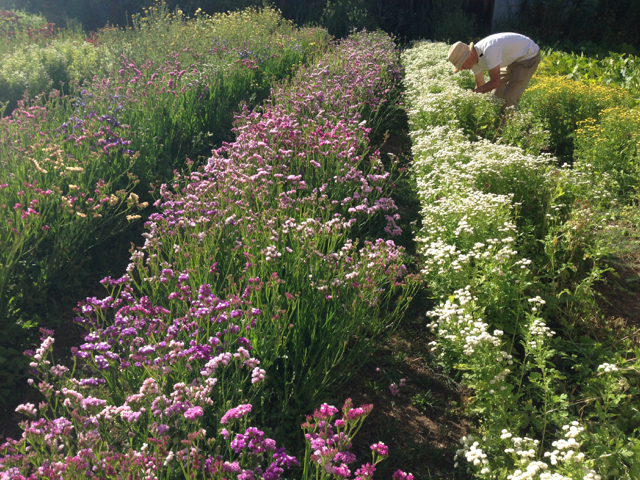 Flower season is here again at Little City Gardens, and we're looking for a 2016 flower apprentice!
After last year's move toward more significant flower production, we're continuing to hone our flower growing and bouquet making skills. We've expanded our dahlia patch and increased the amount of bed space devoted to other summer blooms. We're growing some of our favorite flowers from the past couple of seasons, and we're experimenting with a few new varieties and textures. We're building on last year's lessons and momentum, working with old customers and new, and we're approaching this summer with efficiency and artistry in mind. We'd love some help working with these beauties, and we'd love to share with you some of what we've learned so far.
What we can offer:
In-depth explanation of our methods of flower production as we've developed them, from soil care, to plant spacing, to crop maintenance
Harvest practices and tips
Bouquet making basics
Continual conversation about the ins and outs of running a small urban farm business, observations about sales outlets, customer relationships and pricing
Weekly flowers & veggies to take home
Your weekly horoscope
Ideal interns will be:
Organized and thorough
Excited to learn about flower growing
Have a good eye for color and texture
Invigorated by ambitious, focused work and willing to get dirty
Able to get up early and spend mornings outside
Available Wednesday mornings 7am-noon, mid July – end of September
Internship tasks:
Harvest, trim and sort flowers
Help with bouquet making and wrapping
Help with cleanup (bucket washing, pruner care)
Occasional crop maintenance (weeding, deadheading, fertilizing, etc)
TO APPLY:
Please send an email to littlecitygardens@gmail.com (subject FLOWER APPRENTICESHIP) responding briefly to the following questions. Deadline for applications is Monday June 27th. Applicants will ideally be available for 2-3 hours on Weds July 6th or Thursday July 7th to join us for a working interview on the farm.
Describe your interest (and/or experience — though none is required) in farming or working with flowers.
What skills do you bring?
What's most compelling to you about farming in the city? Why is it important?
Are you available on Wednesday mornings July – Sept? (Please mention any out of town plans).
How long have you lived in SF? What other kinds of things do you like to do?
We can't wait to hear from you!