September 11th, 2016 by caitlyn
EDITED TO NOTE: We encourage you to send a letter to the Planning Commission voicing your concern over the potential loss of this farmable land! Letters can be sent to Nancy.H.Tran@sfgov.org (please reference case # 2015-003791CUA​) by September 19th.
On September 29th, the SF Planning Commission will review Golden Bridges School's proposal to change the zoning and develop 203 Cotter, the land that Little City Gardens transformed and has farmed since 2010. In this proposal, the property's use would be changed from its current RH-1 (single dwelling housing) or Neighborhood Agricultural (farm use) to a multiple-building school campus aiming to accommodate 200 students plus faculty for a K-8 school. After much careful, heartfelt consideration, and after two years of not being able to truthfully speak my feelings about this development, I've decided I can't let this process move forward without publicly voicing my position.
As the steward of this land for the past 6.5 years, as a staunch advocate for the importance of farming in the city, and as an active, engaged SF resident, I cannot in good conscience support a project that builds on top of one of our city's last remaining unbuilt parcels. My relationship with this soil is too profound, and my history of work around its activation and preservation is too significant to be silent about what I believe to be the best use of this land. I care deeply, and I feel very strongly that an open, productive, working farm, with its proven educational value and community benefit, is the best use of this unique space that is in many ways ill-suited for development. To change this parcel's use, and to pave over any bit of this soil would be a huge loss of momentum for San Francisco and for the wider urban agriculture movement.
To be clear, Golden Bridges' proposal does not come as a surprise to me, as I've been aware of their hopes to eventually develop the property into a private school campus since they announced their first designs in late 2014, and I've been witness to the evolution of their visions since then. I signed a Letter of Non-Opposition as a condition of our land use agreement last year, and I've not publicly voiced my opinion about their proposed plans (though I've made my thoughts clear to Golden Bridges founders since 2014), no matter how stifling this silence has felt given the importance of dialogue to this farm project. But it is out of a strong sense of responsibility to this soil, and to the incredible community who has tended it, that I must voice my opposition.
Ultimately, my need to speak is not about Golden Bridges as a group of people; there are lovely people in this community with well intended visions. This is about their proposed development and use — a 200+ person private school, with multi-story buildings — the inappropriateness of this plan on this particular piece of land, and the significance of the loss that San Francisco would suffer if this development happens.
I fully recognize Golden Bridges' rights as property owners to pursue their visions and move through the appropriate public process required to change the zoning that they knew was in place when they purchased the land. After careful consideration I've determined that, as an invested community member, I can't pass up my right to participate in this public process as well.
Some background:
Over the past year I've stayed silent as I've read mischaracterizations of Little City Gardens by the wider Golden Bridges community when defending their proposed displacement of the farm (that this was never a viable endeavor anyway, that we were always a temporary "pop-up" farm, that we've been merely riding the wave of generosity offered by previous property owners). These narratives, however, diminish our hard work over the past six years to identify and spotlight the barriers to an urban farm's viability, and our extensive advocacy for policy that would eventually make this viability possible, for ourselves and for others.
In 2011, our farm was the City's preeminent example that drove the passing of the Urban Agriculture Zoning Ordinance, updating SF's zoning code to allow for more urban farming in the city. This legislation was directly instigated by our farm at this site, was supported widely by organizations, businesses and residents throughout the city (as evident by a packed hearing room that overflowed into the hallway of City Hall!) and it was signed into law by Mayor Lee at a historical and well attended ceremony on the farm.
In 2013, after identifying land tenure as a crucial component to the sustainability of urban agriculture, we catalyzed and helped to pass AB551, statewide legislation that incentivizes vacant property owners to enter into longer-term contracts with urban farmers. This law empowers farmers with the stability and security absolutely essential for viability, and its inception came directly out of conversations about the uniqueness of this very site and the momentum our farm had built.
When Golden Bridges purchased this property very quickly in 2014, I was actively pursuing acquisition scenarios that would support our need for land security. I was in conversation, with the support of an incredible team of advisors and advocates, with a land trust and with the PUC, and we were also brainstorming interim ownership opportunities should these relationship possibilities not come to fruition quickly enough. We articulated visions for public / private partnership, researched educational / commercial hybrid farm models, and utilized data and observations from our first three years of work onsite to establish sound financial projections and solicit support for the continuation of this work. Obviously we didn't get far enough to pull together a buyer in time, as Golden Bridges found and closed on the property very quickly. There was talk of collaboration early on, or at least the carrying on of Little City Gardens' visions of 203 Cotter remaining a farm in perpetuity, which had me feeling disappointed about having our acquisition work interrupted, but optimistic that our visions may be aligned. But the school's designs evolved, and it become quickly evident that there was no place for Little City Gardens in these visions, and no farm at all for that matter.
After over a year of a vagueness, we negotiated a contract in June 2015, outlining a shared arrangement where Little City would continue its work onsite, maintaining the front part of the property as a farm while Golden Bridges pursued its permitting and used the back of the property as an outdoor classroom. Golden Bridges contributed a monthly stipend toward shared expenses (the water bill, for one), as they would be increasingly using the site. I've always maintained my desire to farm this land, and continue our work, for as long as possible.
My position:
I truly feel that the scope of Golden Bridges' plans — a K-8 school — though rooted in value systems and philosophies I admire and can relate to, is inappropriate for this space. I also believe that the traffic flow, density, noise and sewer capacity concerns that the neighbors raise are real and valid (see SaveTheFarmSF.com — our neighbors' passionate support of permanent farm use for this space). I acknowledge the school's efforts over the past year to rework its plans and reshape its presentation in order to appease worries and garner support, but I can't help seeing the proposed use for this particular site, no matter its packaging, as hammering a square peg into a round hole. It is heartbreaking, too big for this narrow lot surrounded on three sides by bedroom windows, and too negatively impactful for the neighborhood. It doesn't make sense. Despite the carefully constructed description as "the nation's first urban farm school" (a claim which inaccurately erases much of the farm & garden education work already happening in our public schools right here in SF, see here, here and here), the proposed project is an ambitiously dense private school campus with play area and gardening space. It is not a farm and it is not a preservation of this land.
And, a more personal note:
My relationship to this particular piece of land, after 6.5 years, is profound. When I walk the length of the farm, my feet know every subtle rise and dip of the path. I know which patches of earth are particularly sandy, and which are still heavy with clay. I know where the wild onions will come up the strongest after our first rain, and I know where the bluejays usually land in the mornings to survey the scene. I know the path that the red-tailed hawk flies when she's in the neighborhood. I understand where the water flows and pools during the wet winter season, and exactly where the shadows fall as the sun gets higher in the summer and lower again in the winter. Cycles repeat year after year, and I know them like the back of my hand. I know this land like it's a friend.
I know the stories of this property from our neighbors who grew up playing on it, and from neighbors who gardened small patches of it when it was a tangle of weeds. I've welcomed new neighbors with flower bouquets, and I said tearful goodbyes to a close neighbor and friend who passed away. I listen to George's longwinded stories every time he stops in on his way to feed the ducks at McClaren Park, and I give garden scraps to Sabrina for her chickens while she tells us stories about growing up on a farm in Italy. I know our neighbor Mark doesn't like cilantro, and Bob loves chard. I've formed relationships with my neighbors, and some are now my family.
I've also gotten to witness the relationships between this land and many of the others who have helped tend to it, volunteering their time and labor in exchange for food, flowers and hands on learning. I've watched close friendships form over bed turning, and I've heard heavy life stories be talked out over transplanting. I've seen identities solidify as people develop and sharpen their skills as farmers in the city.
In this time we here at Little City have personally grown as farmers. We are collecting valuable data around the production, sales, and labor required for an urban farm of this size. We continue to draw, and add to, answers to our original questions. Can a farm be commercially viable in San Francisco? Yes. If so, what supports or conditions are required? Long term tenure, and land dedicated permanently for farming. What are the benefits to having a working farm in the city? It teaches us all that the potential of our food system rests in our hands.
I'm incredibly grateful to be stewarding this land, and grateful to be able to voice my feelings about its future. I will continue to speak for it and take care of it, holding the gate open, for as long as I am able. My position ultimately is not about me, or Golden Bridges, but about a zoning change and process of development on this land that, once started, cannot be undone.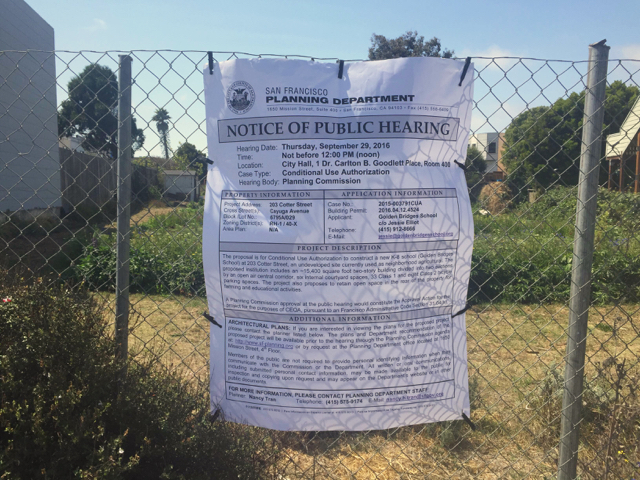 If you would like to voice your concerns about this proposed development, please email Nancy.H.Tran@sfgov.org (referencing CASE #: 2015-003791CUA​) no later than September 19th.
More info and background about Little City Gardens' visions and history can be found in our FAQ.