January 13th, 2017 by caitlyn
Immediately after the Planning Commission's decision to grant permits for development, Golden Bridges School asked us to vacate the property by December 15th. After a whirlwind two months, we've now packed up and moved off of the land we've called home for close to seven years. We harvested the last of our crops, pruned and dug up perennials, turned spent annual crops, dismantled structures, culled through a farm's worth of equipment and supplies, and hauled away our tool sheds.
I'd like to send a heartfelt thank you to all who have expressed support and condolences, and a special thank you to all who helped pack up the farm in these final days. The silver lining to this grueling process has been the supportive community that has come forward to help make this transition as smooth as possible. It's comforting to know that perennials from Little City Gardens will now live on at: Namu Farm, Mills College Farm, Alameda Point Collaborative Farm, Alemany Farm, The Garden for the Environment, SF Botanical Garden, SF Art Institute, and Sisterhood Gardens.
While the end of this year was difficult, I was continually kept warm by the many wonderful moments we all shared at the farm despite it all. I don't think I mention it here enough, but I count my blessings that I got to experience the last season of this farm, and all its ups and downs, with the most amazing crew of regulars — Peter, Patrice, Richard, Ben, Erin, Juna, Rica, Bonnie, Roxanna, and our neighbor Bob. Week after week they each brought their creative, hard working hands and their generous spirits to the farm. They loved the place and filled it with vitality. Bonnie brought us tinctures and soup, Patrice headed up most of the bed turning and seeding, Peter helped with a million decisions. Erin told us stories, and Richard and Rica always came with smiles. Roxanna whispered to butterflies and Ben caught everything on film. Juna communed with the nasturtiums and helped us see the most special blooms. Bob rang his big homemade lunchtime bell for us every day at noon. We read each other our horoscopes and weeded together in the sun. I love this crew forever! May all small farms be so fortunate.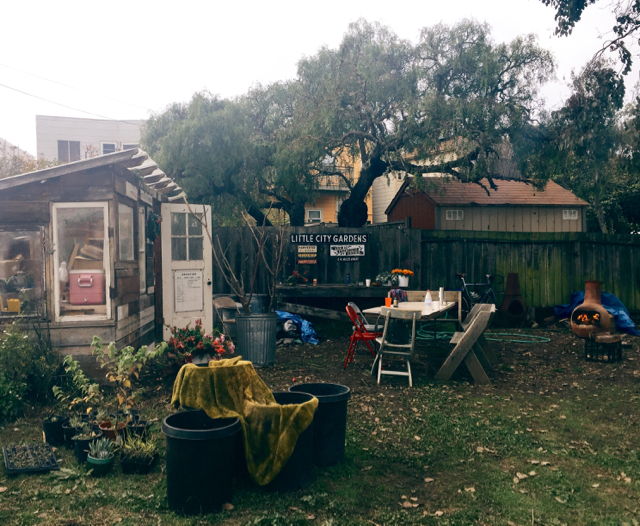 The farm has always felt like an ecosystem of thousands of plants inhabiting a space, each plant with distinct needs and personalities. As a farmer, I would arrive at this place and serve as these plants' loyal attendant, a mother of thousands. But as my role in the space shifted in the final weeks, as individual crops were cycled back into the soil, as weeds filled in our previously maintained paths and perennials slowed their growth, my relationship to the farm felt markedly different. The land itself felt like a singular organism, like one big friend, as if the soil could feel our footsteps and welcomed us. It held us and calmed our anxieties as the eucalyptus branches swayed, and it mourned along with us as the fennel flowers sagged and dripped.
I couldn't have imagined how hard it would be to say goodbye to this friend, especially under these complicated circumstances, saturated with disappointment and frustration. I don't mean to be melodramatic, but the loss of this space, and the dislodging of our deep-rooted activity and community, has in a way felt like the death of a loved one. I think I can speak for many of us at Little City Gardens when I say that the grief of this goodbye has been complex and layered. I will miss this land and the community that formed here. I'll miss the promise and interrupted potential of this productive, vibrant place.
I wanted to make a banner to drape across the fence when we left, some parting words for all who will interact with this land from here on out, for all who have taken for granted the work it took to maintain the space as we all knew it. But I didn't; the goodbye was too overwhelming and consuming. Maybe if I had, it would have said something like:
A farm is not a place that is built once and then exists forever. It's not a static place. A farm is a system, a set of constant activities, a relationship, a way of interacting with a piece of land. A farm is an ongoing craft.
The relationship of a farmer to her land is intimate and deep.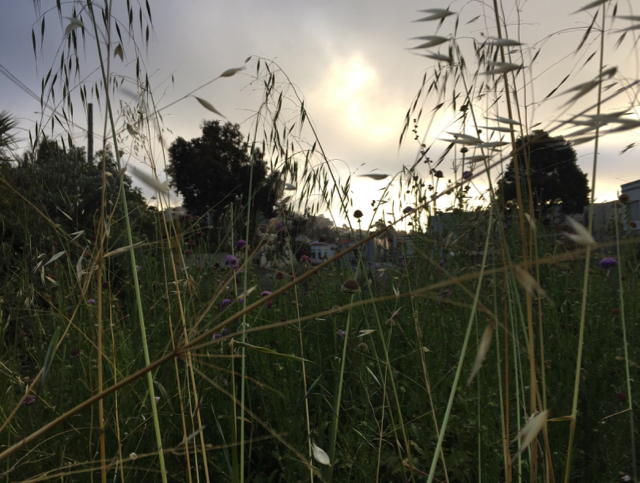 The support for Little City Gardens — as a model, as an idea, and as a community — since 2010 has been profound, and this support has only strengthened over the past year as conversations about the use of this rare open space have come to a head. As hundreds of supporters communicated via letters and public testimony at the Planning Commission hearing in September: WE NEED FARMS. We need them tucked away in rural places and we need them visible and publicly accessible in cities. We need them as efficient and productive spaces, as valuable sites for learning and connecting, and as platforms for engaging with large, complex agricultural issues. We need urban farms to be revered and supported as the unique, rich community assets that they are, and we must not let them be forever relegated as novel, downplayed, temporary uses of urban space.
Thank you to the volunteers, interns, CSA members, neighbors, visitors, fellow farmers, researchers, policy advocates, restaurants, florists, and produce buyers who have supported and encouraged this work.
I think, despite dwindling available space, the urban farming movement remains vital and promising. And as our city continues to dramatically transform, this movement needs our passionate voices and persistent imaginations. We need to advocate for secure farm space in San Francisco before every inch is paved over in the most ruthless real estate market we've ever seen.
What's Next:
I'm working with the Board of Supervisors to pass a resolution that will urge City departments to evaluate what's left of our farmable city space — certain pieces of property that are determined to be particularly suitable for farming — and to allocate funds for their purchase. Supervisor Avalos introduced the resolution in December, and it will now be carried by Supervisor Ronen moving forward. The resolution will be reviewed by committees and voted on by the full Board soon. I will keep everyone posted about ways to support. I'm encouraged by this step forward. It's a formal recognition of one of the most crucial challenges to the survival of our urban agricultural sector — access to land. See the resolution draft here.
And as for Little City Gardens, I'm not sure what's next. We've put many of our tools and supplies in storage for a few months while I personally reorient (a huge thank you to Kristyn at Namu Farm for her support with this, and to our neighbors Bob, Arnold & Kate for their temporary garage space). We don't currently have another space, and to be honest I'm still assessing what kind of energy I'd be able to summon to rebuild another farm. It takes years and such intense work to build soil, infrastructure and momentum. For now, I will work on other projects, and investigate possibilities.
I'll also reflect and write and talk. I've learned a lot over the years and would like to share. And I'll continue my work with The Greenhouse Project to advocate for the preservation and revitalization of those beautifully dilapidated greenhouses in the Portola.
We're also, as a Little City crew, excited to reconvene this spring to volunteer together at some of the great farm & garden projects around the Bay Area. It will be refreshing to see some of the projects that I've admired from afar but, being a mother of thousands, haven't been able to visit. We're coming for you, Bay Area farm friends! We'll bring horoscopes.
So stay tuned, we're still here, without land.
Here's a photo of Bob mounting our farm sign to the side of his house. He says 203 Cotter St will always be Little City Gardens.