October 28th, 2014 by caitlyn
How on earth do people run farms and still have time to write about it? It's gotten infinitely harder these past few months. At the end of a long workday, I can barely fix myself a simple dinner, let alone sit down to write about all the conversations and thoughts and decisions I've processed throughout the week, all the problems that arise and observations we collect, all the new people that come to the farm and all the visions that evolve, no matter how much I wish to to share them and no matter how much I long for the sense of community and the occasional nudges of support you all send over. Farmers out there, I honor and respect you! I can't imagine that I'm even working a fraction as hard as many of my scaled up counterparts, despite the back aches.
But never fear, dear supporters, the farm is still alive and well! The summer has been a colorful one, with the addition of cut flowers as a significant focus of production on the farm. They've been a successful experiment, I'd say. Yields were very satisfactory across the board, and the revenue that a bed of cut flowers can generate is helpful, in comparison to a similarly sized bed of vegetables (which we also still grow plenty of, despite the lack of photo evidence this summer. The flashy dahlias steal all the attention!)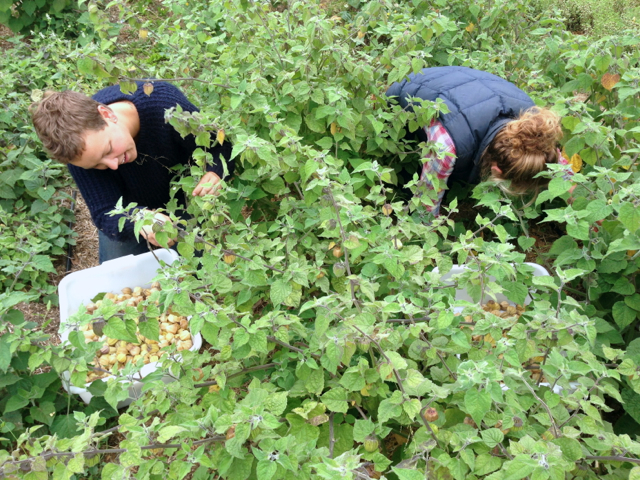 We grew nigella, statice, cosmos, bachelor buttons, scabiosa, snapdragons, and craspedia, in addition to the dahlias, and put together colorful mixed bouquets that we sold wholesale to Bi-Rite Market throughout the summer. With this season's experience under our belts, we should be able to predict yields and bloom times a bit more solidly next year, which will hopefully allow us to accommodate a 2015 Spring & Summer Flower CSA — a goal I originally had for this year. Selling wholesale was efficient (and Eleanor from Bi-Rite was a dream to work with), but selling direct will allow us to reap a little more much-needed revenue from each flower bouquet. Putting together a mixed bouquet is surprisingly labor intensive. Plus it will allow us the chance to reconnect with our neighborhood community of customers, a relationship I've greatly missed since selling mostly to restaurants these past two seasons.
Did you know that the southern part of San Francisco (the farm's very neighborhood, perhaps) has a rich history of commercial flower growing? In the late 1800s and early 1900s, immigrants from China, Italy and Japan operated thriving farms and greenhouses full of cut flowers to be sold in the streets of downtown and at the San Francisco Flower Market which was founded at the time by local growers and is still alive and well today. Growing flowers in the city now feels like a humble homage to this piece of San Francisco's agricultural heritage, even if our tucked in one acre patch is only a small symbolic slice of what once was. This history is an important reminder that we're not inventing anything new here — by farming in the city, we're only reclaiming fractions of lost landscapes that once were commonplace.
And in other news, aside from flowers: we recently bid farewell to one of the farm's steadiest and most devoted supporters since Brooke left a couple years ago, Andi Emrich. She's been my hard working right hand lady day in and day out, and she really helped keep this farm afloat through what was, in retrospect, an overwhelming amount of steady change. Goodbye dearest Andi! Norman, Oklahoma doesn't even know what's coming!
There is so much more to write (about our continually evolving land tenure prospects, about the exciting passage of AB 551 legislation and what that might mean for urban agriculture throughout the state, about the current livability of tech-money-fueled San Francisco and what its like to persist as a fixture in a sea of constant unsettledness, about my evolving thoughts on restaurant sales vs other marketing outlets, about our recent fish compost experiments…!), but for now please enjoy the photos and know that the farm is, though we are as tired as can be, very much alive and kicking. More soon.