November 24th, 2015 by caitlyn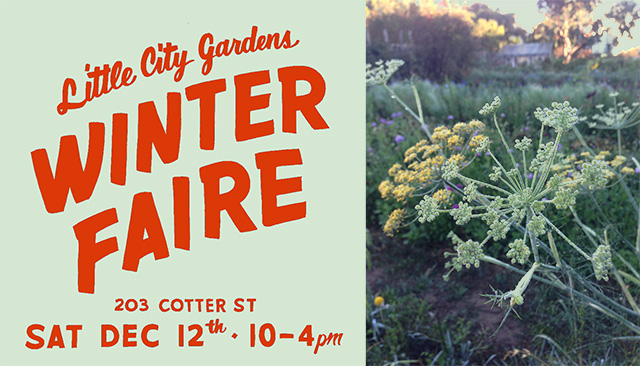 Please join us at the farm for our 2nd Annual Winter Faire & Holiday Market!
SATURDAY DECEMBER 12th
10am – 4pm
at the farm, 203 Cotter St in the Outer Mission**
The scene:
Once again, we'll have a crackling fire in the chiminea and lights strung about, hot soup and hot beverages. There will be scheduled farm tours and herb walks, kids' activities, a puppet show, and music. The paths will be mowed and tidy, and we'll put our very last flowers in vases for you. You can peruse tables filled with top notch Bay Area goods, perfect for all your holiday gift giving, and then sit on blankets by the fire in the low December light, enjoying some music and hot refreshments. It's been another long, focused season at the farm, and we are very excited to open up the gate, sip some hot tea with you, and mark the end of 2015.
The goods:
The faire will be a one stop shop for really incredible gifts! We'll have Little City goods — more tote bags (back by popular demand!), a fresh made batch of herbal remedies, seeds we've saved this year, and some farm drawings and dried flower artwork made by some of our nearest and dearest farm regulars. There will also be an impressive array of herbal medicine makers, beekeepers, jewelers, woodworkers, ceramicists, knitters, painters, florists, and cheesemakers offering their wares!
* * * * * * * * * * * * * * * * * * * * * * * * * * * * * * * * * * * * * * * * * * * * * * * * * * *
Scheduled activities:
FARM TOUR – 11am & 2pm
Want to roam the farm and check out the crops? Curious about what we do, our history, and what we have in store for the coming season? Join Caitlyn for a brief 20 minute farm tour, with Q & A!
HERB WALK – 3pm
Bonnie Weaver, an herbalist and long time Little City Gardens volunteer, will lead a short walk through the farm, identifying common medicinal weeds and highlighting their benefits and uses. This is also a great chance to learn about the plants that have gone into our Little City Gardens herbal salve, hand cream, and herbal mist — available once again at the faire.
PUPPET SHOW – 11:30am & 12:30pm
Preschool and Kindergarden teachers from Golden Bridges School will present a hand puppet show!
LIVE FLORAL ARRANGEMENTS – All Day
Juna Alinea, one of our summer flower apprentices and a very talented florist, will be parking her converted van / floral studio onsite and making stunning arrangements on demand
LIVE WATERCOLOR PORTRAITS – All Day
Get your portrait painted by Joe Ferriso!
RAFFLE! – all day
Enter for your chance to win dinner for two (or equivalent) to one of the fine restaurants we work with — Outerlands, Californios, Kronnerburger or Tartine Bakery! Winning names will be drawn at the end of the day.
Please join us for a fantastic time on one of the most beautiful acres in the city! We'd love to see you!
**Parking: please note parking is limited in this residential area, so arrival by bicycle, MUNI (J-train to Santa Rosa Ave) or BART (Glen Park) is strongly encouraged when possible. Please respect our neighbors by not blocking driveways.
**Accessibility: the farm path from the front gate to the main faire area is unpaved, with patchy grass and dirt. If you need wheelchair assistance, or have any questions about accessibility, please email littlecitygardens@gmail.com.
**Restrooms: There is no restroom onsite. The nearest facilities are at the Excelsior Public Library two blocks away (Mission & Cotter) — open 10am-6pm.